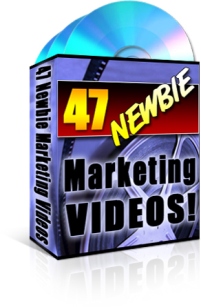 47 Newbie Marketing Videos
Think starting an online business is complicated? Not if you read every single word of this message!
Who Else Wants 47 "Closely Guarded" Videos That'll Take You From Internet Marketing 'Zero' to 'Hero'…
…Even If You've Never Sold A Thing Online In Your Life?
These videos cover everything you can imagine!
You'll learn all the basics and a bit of the advanced stuff also.
How to choose a domain name,
registering a domain name,
setting up dns,
chooising a host,
setting up an email account,
configuring your mail client,
setting up a signature in your pop client,
how to open and download zip files and PDF files,
using FTP to upload files from your computer to your new webhosting,
setting up an account with click bank,
setting up a sales page and a thank you page for a product with resale right (we have TONS of them on this site FREE for all you members) using click bank,
setting up an order page and thank you page with click bank,
setting up a thank you page and order page with paypal,
how to format and deliver your own ezine,
what is HTML and how does it work,
beginers HTML discover how to center text,
make bold create paragraphs and more,
creating tables rows and columns with HTML,
more beginners info on HTML and how to insert photos,
How to make links and link to images,
How to use HTML templates quickly and easily,
How to get great keywords using keyword research,
Create a title tag and meta tags for your new website
Optimize your website for search engines (SEO)
Writing Ad Copy
The Importance of Testing your copy
Submitting your site to the search engines
Installing ad tracking and split testing program
Using your ad tracking and split testing program
Creating classified ads
Build your link popularity and increase your rankings
Create your first ebook
Transform your ebook into an EXE file
Transform your ebook into a PDF file
Make your EXE ebook brandable
Make your PDF ebook brandable
Running your affiliate program with Click Bank
Installing your customer support desk
Using your customer support desk
Create a password protected area of your website
Adding forms to your site for easy feedback from your visitors
Installing a free blog program
Using your blog
Promoting affiliate programs
Cloaking your affiliate links and using short redirects
Install a shopping cart, affiliate program and ad tracking system all in one
Discover RSS feeds
If you are new online, I highly recommend that you begin with this amazing video series!
This covers everything you need to start making money online just like me… John Derrick.